Interview with Long Distance World Champion, Nina Zoller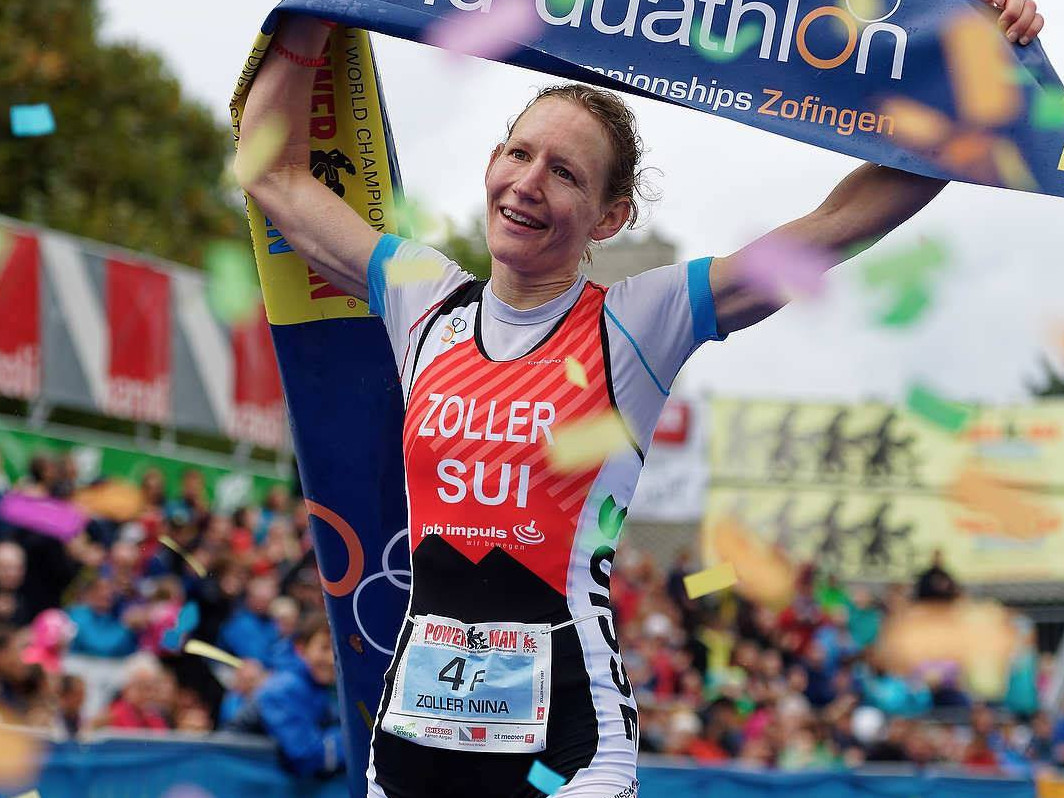 Hello Nina,
in preview to Powerman Alsdorf in August 2021, we would like to introduce our athletes and get to know them:
Please, introduce yourself and highlight some important moments/successes as athlete!
I am Nina Zoller, 34 years old and work as a geologist. Important moments in my sporting career? Hard to say. There are so many beautiful moments. But of course, winning the ITU Powerman Long Distance Duathlon World Championships 2019 was very special.
How did you become a duathlete?
Actually, I wouldn't call myself a duathlete at all. My passion is movement in the mountains and in nature. Whether ski tours, mountain tours, cycling marathons or mountain and trail runs - it doesn't matter. But I also like fast city runs. Somehow the path to the duathlon was as coincidental as it was obvious. The contact came through the Alpen Challenge Lenzerheide. I came fourth in my first duathlon ever at the Powerman Zofingen. And since then I've also been a duathlete.
From your personal perspective, what is special about the run-bike-run format of Powerman World Series?
What I find exciting about the Powerman World Series are the long distances. You have to go full throttle somehow, but you have to manage your strength well. Especially at the Powerman Zofingen. And - if the races could take place again - it would of course be exciting to see the other countries as well. So far, I've only been abroad for the Powerman Viborg and last year for the Powerman Portugal. Now I'm looking forward to Alsdorf.
How often did you compete at Powerman Alsdorf and what is you personal highlight of this particular race?
I don't know Alsdorf yet - it would have been my first time in 2020 racing there. I'll just let myself be surprised. But I think it's a fast race. And it should have a strong field. I am curious.
Have you participated in any other Powerman World Series races? If so, what is your "don't-miss-race"?
Of course, the Powerman Zofingen is very special. The organisation is top, the distance is long. It's simply a special race. But Portugal, I also liked the Powerman in Mafra. Beautiful courses, perfectly closed off. Viborg has a completely different character again, also a nice race. And I don't know any more races in the Powerman series.
How does a typical training week looks like in your preparation for a Powerman race (apr. 2 month prior to the race)?
A special training week? I don't have one. There never has been. Firstly, I'm employed as a geologist and that job also requires a lot of flexibility. And then I just see what the weather is doing, what the conditions are. Now in spring, for example: If the snow is good, of course I go ski touring. We had powder for so long and now we have perfect springtime snow. Then the other sports have to wait. But we've also had really warm days, then I just have to get on my bike. It comes as it comes. The main thing is exercise and the main thing is to get out.
Despite the current uncertainties of racing in 2021, do you have a competiton schedule in mind?
A plan for 2021 is difficult to make. It feels like the calendar changes every day. I hope that my home races with the Alpen Challenge Lenzerheide and the Rheinquelle Trail will take place again. I'm particularly looking forward to those. And if it's easier and safer to travel again, it would of course be cool if two three Powerman races could also take place and the World Championships in Zofingen. But we'll see. If not in 2021, then just in 2022 - there's probably little point in planning in too much detail and going crazy at the moment.
Last but not least: What are your best advices for athletes who want to participate in a Powerman race?
What do you have to bring with you for a Powerman? First and foremost, enjoyment of the sport. And endurance certainly can't hurt either. But otherwise? Don't let yourself get crazy. The best thing is to find your own pace - both in preparation and then in the race. There are almost always faster runners. If you drive yourself crazy straight away, you won't have any fun.
Thanks for sharing your experiences and insights with us! We wish you the best for your individual and athletic goals.
We are excited to see you racing in Alsdorf on August 15th, 2021.
More interviews with top Powerman athletes
Alice Hector
Jan Petralia
Daan de Groot
Talles Medeiros
Diego van Looy
Michele Paonne
Seppe Odeyn
Share this post
---