Interview with Danish Powerman Mads Kaae Jørgensen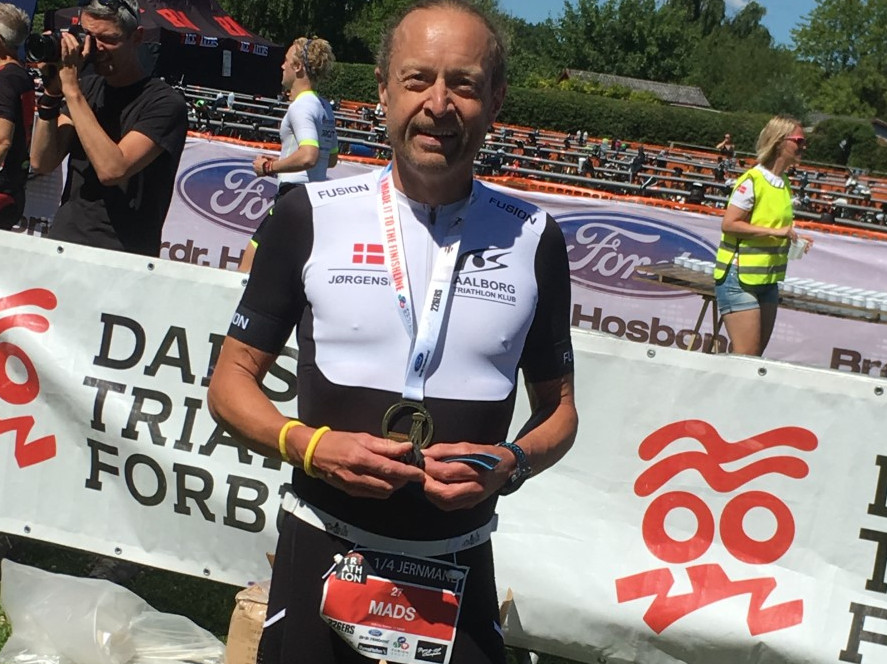 Hello Mads,
in preview to Powerman Alsdorf in August 2021, we would like to introduce our athletes and get to know them:
Please, introduce yourself and highlight some important moments/successes as athlete:
Hello my friends. My name is Mads Kaae Jørgensen. I am 53 years old, and I live in Aalborg, Denmark. I am self-employed in a company dealing with advisory and approval for road use of vehicles. Besides of doing triathlon and duathlon, I am also the chairman of our local multisports-club. I also run a minor business selling high-end roadbikes. I think one of my finest moments was coming in as #10 in my age-group at Ironman Hamburg 2018. But I also enjoy racing many local races, in which I am normally satisfied with my results.
How did you become a duathlete?
I am also a triathlete. But during a training camp, our clubs coach suggested, that I would have a fair chance as a duathlete. Since then I have been taking duathlon very seriously.
From your personal perspective, what is special about the run-bike-run format of Powerman World Series?
I think it is a very big challenge, and the start with running at race-pace immediately is demanding and needs to be planned and trained carefully. I believe, that duathlon is more than just for bad swimmers. It is a far greater challenge without the "soft" start in the water.
How often did you compete at Powerman Alsdorf and what is you personal highlight of this particular race?
I have only participated in Powerman Alsdorf once. And I immediately took the decision to come back and race wit you again. All of the atmosphere, spectators and the fact that the local business community is supporting the event, was very convincing.
Have you participated in any other Powerman World Series races?
If so, what is your "don't-miss-race"? I have raced in Viborg, Denmark. And was also scheduled to race in Zofingen. The latter I unfortunately missed due to a bike-crash in a local race just a week before the event.
How does a typical training week looks like in your preparation for a Powerman race (apr. 2 month prior to the race)?
Starting Monday, one hour interval running with the club. Tuesday, swimming. Wednesday, hard training on the bike and swimming in the evening. Thursday, running with the club and swimming in the evening. Friday, long and fairly easy running and swimming in the evening. Saturday, 2 hour intervals on the bike and brick-run afterwards (sometimes before the bike-training). Sunday, swimming in the morning and long and fairly easy biking with friends from the club.
Despite the current uncertainties of racing in 2021, do you have a competiton schedule in mind?
Yes. I will do Alsdorf, Zofingen and Viborg in the late summer/autumn. Besides that; 3 local triathlon races in the local area. One is danish championships.
Last but not least: What are your best advices for athletes who want to participate in a Powerman race?
There is just one main thing to say: Just go for it. And remember to enjoy the race all the way. We only live once.
Thanks for sharing your experiences and insights with us! We wish you the best for your individual and athletic goals.
We are excited to see you racing in Alsdorf on August 15th, 2021.
More interviews with top Powerman athletes
Alice Hector
Jan Petralia
Daan de Groot
Talles Medeiros
Diego van Looy
Michele Paonne
Seppe Odeyn
Share this post
---