*** Interview with Former German Duathlete Champion Dominik Sowieja ***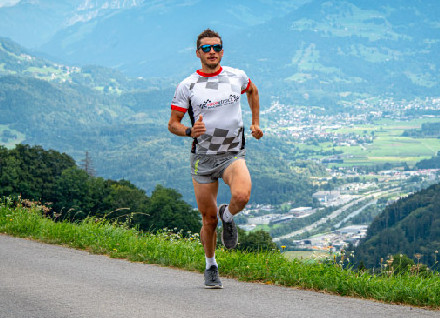 Hello Dominik Sowieja,
in preview to Powerman Alsdorf in August 2021, we would like to introduce our athletes and get to know them:
Please, introduce yourself and highlight some important moments/successes as athlete
Hi, my name is Dominik Sowieja. I'm 29 years old and since 2011 I'm doing this triathlon thing. Besides my job as an engineer for robotics and automation I use almost every minute to improve my performance in sports. On of my highlights was for sure my first German National Title in the Elite Field in Alsdorf 2016. Besides that, I was several times European and German Champion in Triathlon and Duathlon before I switched to the professional field in 2017. One of my highlights are also the victories in the 2nd triathlon national league and qualifying for the Ironman 70.3 World Championships as a professional with a 4th place at Ironman 70.3 Kraichgau in 2019. But one of my biggest victories is to be able to do competitive sports after my accident in 2017. I love to move and to challenge my limits. I also do several sports besides triathlon such as climbing, mountain biking, skiing, basketball, soccer and so on.
How did you become a duathlete?
I wouldn't say that I'm a duathlete. Running and cycling are my best disciplines but primarily I'm a triathlete working hard to get my swimming on the same level as my bike and run. Duathlon is quite hard and a great preparation for triathlon competitions and I love these close battles with the other athletes.
From your personal perspective, what is special about the run-bike-run format of Powerman World Series?
First point is for sure the field is very competitive, and you always test you limits and usually go a bit beyond them. It is special because it's that hard: You are running so hard that you don't think that you are able to ride your bike properly but it's possible and then the same afterwards bike to run.
How often did you compete at Powerman Alsdorf and what is you personal highlight of this particular race?
My first race in Alsdorf was in 2016 when I was able to win the German National title. After that I became a big fan of this race. Patrick and his team are organizing one of the best organized events I have ever participated in. The atmosphere is very familiar and you feel very comfortable as an athlete. Beacause of that I toed the line in every race since 2016 and will compete in 2021!
Have you participated in any other Powerman World Series races? If so, what is your "don't-miss-race"?
My first Duathlon was at the Powerman in Zofingen, but only the short distance. One day I want to come back to this place and compete in the World Championship at the long distance. My don't miss race is for sure Alsdorf because of all these great people around.
How does a typical training week looks like in your preparation for a Powerman race (approx. 2 month prior to the race)?
Generally, I train around 25h/ week approximatly 15-20k swim, 300-400k bike, 50-60k run and of course some strenght, stability and mobilitiy training. At recovery weeks its around 10-15h. In order to get ready for a duathlon race, I'm only doing a few specific workouts a few weeks prior to the event. These sessions are mostly multi brick sessions for example 5x (2k run 15k bike) without break and increasing speed from easy to race pace.
Despite the current uncertainties of racing in 2021, do you have a competiton schedule in mind?
Yeah in times of the pandemic, it is quite difficult to plan ahead. But I have already a race plan for 2021: My season highlight will be the Challenge Roth in July, Alsdorf in August and maybe on more Ironman race at the end of the year. In between I will do some Ironman 70.3 races. It's hard to say when the season will start so it's always a bit of uncertainty and I have prepared myself to reschedule the plan a few more times if necessary.
Last but not least: What are your best advices for athletes who want to participate in a Powerman race?
Have fun and be consistent. You don't have to train that much or these brutal sessions, just go out, have fun and do your training day by day. And don't forget to rest at least one time per week.
Thanks for sharing your experiences and insights with us! We wish you the best for your individual and athletic goals.
We are excited to see you racing in Alsdorf on August 15th, 2021.
More interviews from top Powerman Duathletes
Share this post
---