14. February 2020 (13:39 Uhr)
The early season is when we see inspiring performances from our athletes as they race the longer-distance duathlon events all over Europe. The highlight for us once again will be the ETU-Powerman European Middle Distance Championships, hosted this year by the city of Alsdorf.
The 2020 race will be an important one for many, as they seek to defend their titles won last year in Viborg but for a good number too, this race will be a final test of their fitness ahead of the very first ITU-Powerman Middle Distance Duathlon World Championships, which will be held soon afterwards in Viborg, Denmark.
ETU and Powerman have been working closely together for many years now to promote the challenge of middle-distance duathlon racing and this has naturally fed into the "Big One" at the end of the year in Zofingen, where athletes from all over the world race for the ITU World titles.
I am pleased that the 10k – 60k – 10k format has been recognised by ITU as an event that deserves a place at the table of World Championships and am sure that the support, enthusiasm and positive feedback of so many of our European athletes over the years as they raced around Europe at our Championship events has contributed to this decision.
The race in Alsdorf is a well-established one and has been used by the Deutsche Triathlon Union in the past for its own national championships. The event has been recognised as Germany's biggest duathlon. The LOC is strong and determined and the "easy to get to" location is attractive to athletes from many countries. The team of Technical Officials, led by Thomas Klingler, is a very experienced one, who will ensure that the years' of experience they have built up at our own ETU-Powerman events and in Zofingen, will ensure a safe and fair race.
I would like to extend my thanks to Partick Thevis and his team in Alsdorf and of course to the city authorities without whose continued support we simply could not have events like this on the ETU Race Calendar. Alsdorf is an ancient city, dating back to, I believe, 1191 and I am very happy indeed that such an ancient city will host such a modern, forward-thinking and inclusive sport. I wish everyone a very successful trip to the 2020 ETU-Powerman Alsdorf Middle Distance Duathlon European Championships.
Renato Bertrandi
President European Triathlon Union

On April 19th, we will set up for the sixth time a duathlon event in Alsdorf. What started in 2015 in a very manageable way will go down in the history books this year with the European Championship as an absolute highlight. We welcome more than 1000 athletes from 20 nations here in Alsdorf. In addition to the athletes from Germany and Europe, we are particularly proud of the many participants from overseas.
Our event is still interesting not only for top athletes and ambitious athletes. Almost 50% of the participants can be assigned to the group of amateur athletes. The sprint distance with 300 participants is still a big part and very important for us, because we want to inspire people for the duathlon sport.
My thanks go to the city of Alsdorf, the many volunteers and the loyal sponsors. My special thanks go to our main sponsors DACHSER Logistics Center Maas-Rhein and Sparkasse Aachen. Without this support, such an event could not be held.
I wish all participants a successful and accident-free competition, and the spectators have a lot of fun watching the race.
Patrick Thevis
Race Director
TABLE OF CONTENTS
1. GENERAL INFORMATION
1.1. INTRODUCTION
1.2. KEY DATES
1.3. KEY CONTACTS
1.4. CONTACT DETAILS
2. VENUE
2.1. RACE VENUE
2.2. COURSE FAMILIARIZATION
2.3. ATHLETES' LOUNGE
2.4. ELITE ATHLEETES' RACE PACKAGE
2.5. DOPING CONTROL
3. ACCOMODATION
4. TRANSFER AND TRANSPORTATION
5. ATHLETES' SERVICES
5.1. TRAINING FACILITIES
5.2. BIKE MECHANICAL SERVICE
6. COMPETITION SCHEDULE
6.1. ELITE WOMEN
6.2. ELITE MEN
6.3. COMPETITION RULES
6.4. ATHLETES' BRIEFING
6.5. TIMING CHIPS
6.6. RESULTS
6.7. PROTESTS & APPEALS
7. ACCREDITAION
8. USEFUL INFORMATION
8.1. LANGUAGES
9. COURSE MAPS
1. GENERAL INFORMATION
1.1. INTRODUCTION
The purpose of the Athlete's Guide is to ensure that all athletes, coaches and Team Leaders are well informed about all procedures concerning the Event. The LOC ensures that the information contained in this Guide is correct and up-to-date as of the production date. However, athletes, coaches and Team Leaders are advised to check with the event office regarding any changes in information included in this guide. The race follows the ITU rules they can found under:
www.triathlon.org
The uniform catalogues are under:
www.triathlon.org
1.2. KEY DATES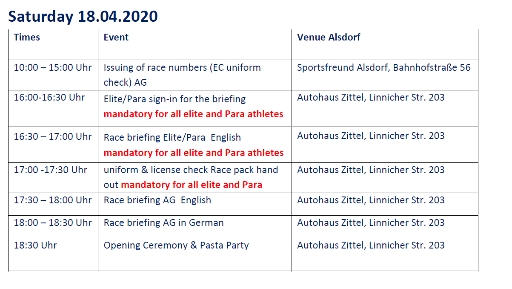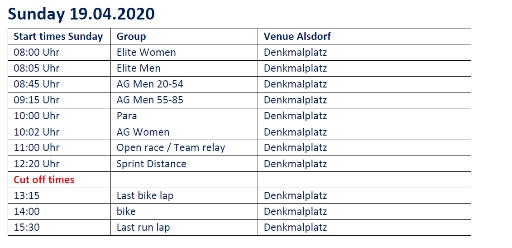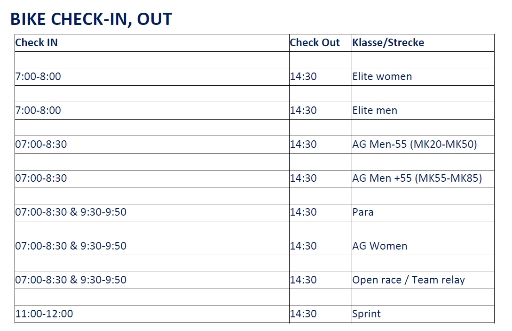 1.3. KEY CONTACTS
Name and contact details of:
Technical Delegate Thomas Klingler
1.4. CONTACT DETAILS
Patrick Thevis, Tel. 0151/50739664 thevis@freenet.de
2. VENUE
2.1. RACE VENUE
Denkmalplatz, 52477 Alsdorf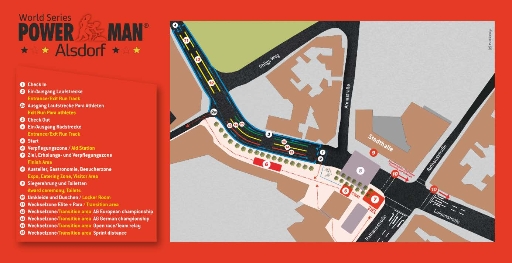 Parking
Parking close to venue. Kaufland Alsdorf, Bahnhofstr. 37, 52477 Alsdorf
Be care full this parking looked form 8:00- 16:00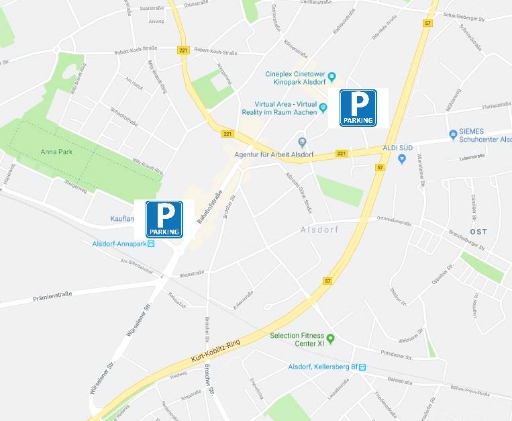 2.2 COURSE FAMILIARIZATION
We have no familiarization.
Be careful it is not allowed to ride bikes on the roads L240 and on the 57n. They can only use when they are closed for the race.
2.3. ATHLETE'S LOUNGE
The bag drop of is in the city hall, there are also toilets. A recovery area is behind the finish, showers are in the Luisenbad
2.4. ELITE (and/or other categories) ATHLETES' RACE PACKAGE
The Elite/para get the race pack after the briefing in the Autohaus Zittel, Linnicher Str. 203. AG Race pack pick with the uniform check is located at the Sportsfreund Alsdorf, Bahnhofstraße 56
2.5. DOPING CONTROL
The doping control will be located in the town hall. Doping tests will be conducted according to ITU/WADA rules. The athletes must carry their identification to the doping control facilities.
3. ACCOMODATION
Book your hotel room as soon as possible (in2 Boarding House, City Hotel Alsdorf and Hotel Gloria
Alsdorf). Camping facilities are 2 km from the race site.
4. TRANSFER AND TRANSPORTATION
Closest airports from the event: Maastricht/Aachen Airport at 40 km, Cologne Airport at 70 km and Düsseldorf Airport at 70 km with well working railway connection to Alsdorf.
5. ATHLETES' SERVICES
5.1. TRAINING FACILITIES
Showers at the completion days are near the TA in Luisenbad.
BIKE
The bike course can not be used for training, most of the road`s are normally closed for bikes.
RUN
The run course can uses all time
5.2. BIKE MECHANICAL SERVICE
Bike Shop: bestbike Radsport, Bahnhofstraße 43, 52477 Alsdorf
6. COMPETITION SCHEDULE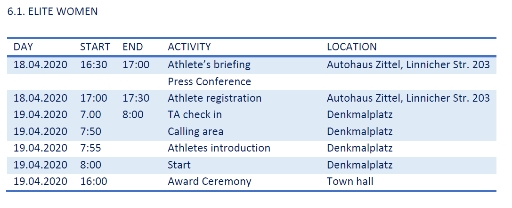 6.3. COMPETITION RULES
The event will follow the latest published Competitions Rules of the International Triathlon Union.The race follows the ITU rules they can found under: www.triathlon.org
The uniform catalogues are under:www.triathlon.org
6.4. ATHLETES' BRIEFING

6.5. TIMING CHIPS
At the registration athletes will be given a timing chip, to be worn on the athletes' ankle.
6.6. RESULTS
Results will be uploaded live at the ITU official website www.triathlon.org
Please inform if there is any live coverage. All the results information will be distributed to the team leaders at the information centre
6.7. PROTEST & APPEALS
Standard procedures will be followed according to the ITU Competition Rules.
7. ACCREDITAION
The LOC will provide to all the Organizing Committee Members, ITU Technical Officials, athletes, VIPs, media, technical staff, court personnel, volunteers, etc. with an official accreditation card.
Info on when and where the accreditations will be distributed. Only accredited people will be allowed to access certain venue areas. Accreditation cards provide access to specific areas of the competition areas. All accredited people are requested to carry their Accreditation cards with them at all times and to show them upon request.
Accreditation cards are mandatory to enter the venue.
8. USEFUL INFORMATION
8.1. LANGUAGES is English
9. COURSE MAPS
All maps can be found as google earth files here.
TRANSITION 1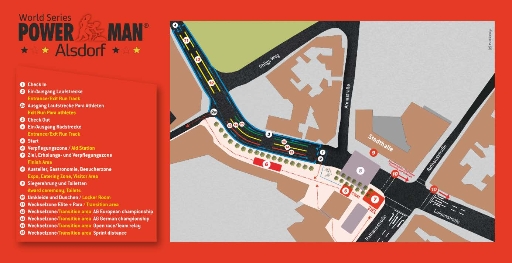 BIKE COURSE, 3 LAPS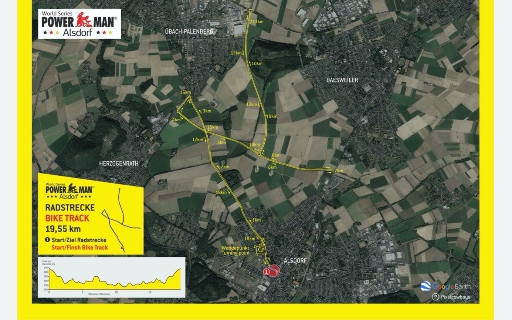 RUN COURSE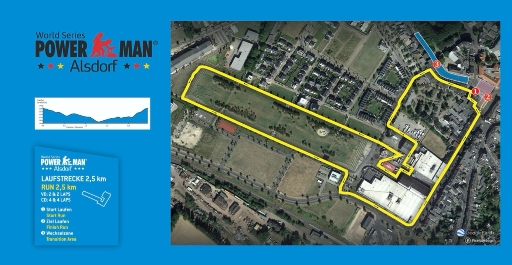 Good luck, and thanks to your sponsors